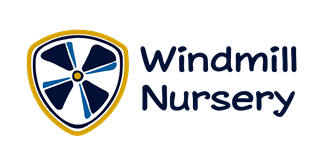 Windmill Nursery is a sessional nursery that works with the school term times.  We have morning and afternoon sessions and have provision for 15 and 30 hour placements – subject to government requirements.
We take children the term after their third birthday, but there are a select number of spaces for children who have already turned three, and have two-year-old funding in place.
Find us on Facebook: www.facebook.com/WindmillPrimaryNursery
... or find out more about Windmill Primary School from the headteacher...
... or have a look at what other people say about our school...
The nursery offers both 15 hours and 30 hour sessions.
The 15 hour sessions run either from 8:35am until 11:35am or from 12:30pm until 3:30pm Monday to Friday, and are open to all children in the term after their third birthday.
For working parents, sessions making up a weekly total of 30 hours are available, although certain criteria have to be met. Sessions start at 8:35am and finish at 2:35pm.  The children join the Reception classes for lunchtime. They can bring their own packed lunch or can purchase a hot school dinner for £2.40 per day.
Mrs Morris-Jones is the nursery supervisor, Mrs Purcell and Miss Butcher are the nursery assistants and Miss Lambert is the Early Years lead teacher, who currently teaches in the reception class.